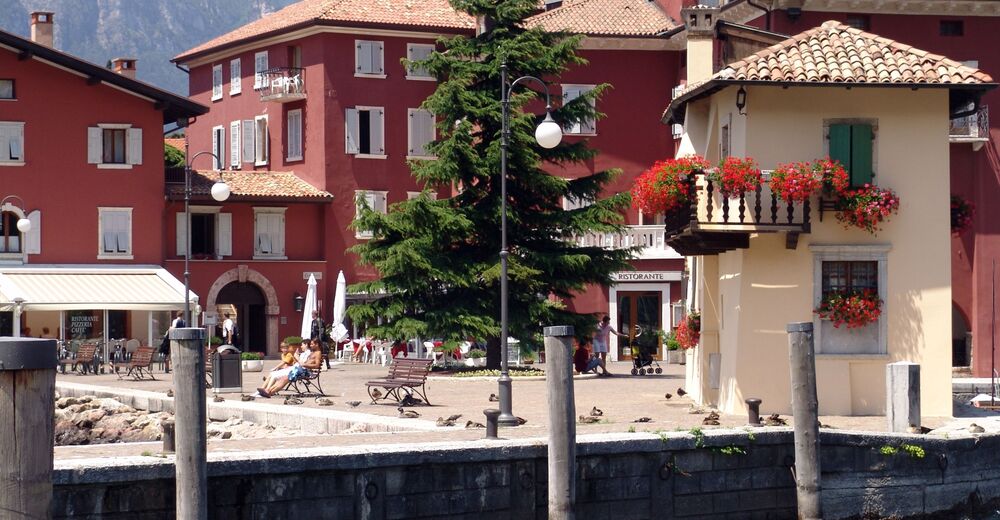 Torbole is located directly on Lake Garda, its colorful houses open up from the small picturesque harbor to an amphitheater; Torbole was the historical witness of an extraordinary event in 1439: the Venetians brought some of their warships down to the lake through this pass, thus claiming the northern shore of Lake Garda from the Milanese.
But it was Goethe who made the place famous in the German world at the time of Romanticism, and at his first contact with Lake Garda, its silvered shimmering olive groves, mild climate and places praised by the classics, he believed he had reached perfect happiness. The exceptionally picturesque sight of the place attracted very many romantic and late romantic painters from the German world. Johann Lietzmann (1872-1955), for example, bought a large olive grove on the lakeshore (behind the Hotel Paradiso) and founded a school of nude painting that produced many talented artists.
In the second half of the 19th century, the village, as well as the nearby towns of Arco and Riva, was chosen as a place of stay and health resort by Central European travelers. This tourism contributed to the development of the ancient village of fishermen, farmers and mountain dwellers into today's tourist center.
Text: www.gardatrentino.it
---
Tips til fritiden Torbole sul Garda - Nago
---
Kontakt Torbole sul Garda - Nago
Trentino S.p.A.
Largo Medaglie d'Oro al Valor Militare, 5, I-38066 Riva del Garda (TN)
Telefon

Fax

Hjemmeside
E-Mail
Søer Torbole sul Garda - Nago
Webkameraer
De mest populære regioner