The area: every day a new discovery
For a holiday to be different from the other, the Garda Trentino offers a perfect combination of sport and wellbeing, fine food, wine and culture, to regenerate body and mind without forgetting the pleasures of relaxation. But the true spectacle is
nature itself: the blue of the lake with its long beaches of white pebbles, the green expanses crowned by encircling mountains.
Nature and sport: an outdoor training ground
Midway between the mountains and the lake, Garda Trentino offers natural amenities of the highest order for all kinds of outdoor sports and is known in Europe as a prime destination for active holidays year round thanks to the mildness of its climate. From sailing to mountain biking, windsurfing, climbing, canyoning, Nordic walking, trekking and ski tourism, the Upper Garda offers myriad opportunities for a healthy active lifestyle.
A tradition of excellence in food and wine
The finer flavours of the lake and the more robust flavours of the mountains come together in the traditional recipes of Garda Trentino, where the main ingredients are fresh water fish, carne salada, the broccoli of Torbole, the plums of Dro, the sweet chestnuts of Drena, to name but a few. Garda Trentino DOP extra virgin olive oil and our excellent range of wines bring out the flavours of local specialities and, last but not least, apple strudel and "torta di fregoloti" are the perfect
accompaniment to Vino Santo, a Slow Food presidium, produced with our own local Nosiola grapes.
Wellbeing and entertainment for all the family
Wellness is real culture in Garda Trentino. There are many hotels, such as those belonging to the club "Vita Nova – TrentinoWellness", offering customised treatments which combine relaxation, exercise and body care treatments. While there is sport, culture, shopping and wellness to fill the days, in the evenings the visitor can enjoy the restaurants, "trattorias", traditional pubs and lounge bars or the wide range of events for young and old which take place all year round in different parts of the area.
---
Tips til fritiden Garda Trentino
---
Kontakt Garda Trentino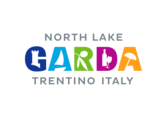 Trentino S.p.A.
Largo Medaglie d'Oro al Valor Militare, 5, I-38066 Riva del Garda (TN)
Telefon

Fax

Hjemmeside
E-Mail
Webcams
De mest populære regioner