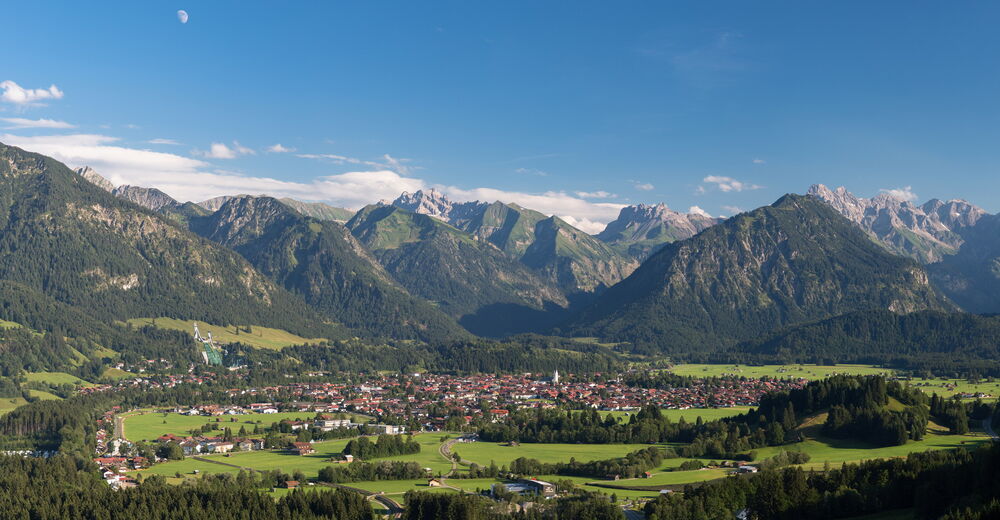 Nature Enjoyment & Hiking Bliss
Imagine yourself in the midst of a stunning idyllic mountain landscape, as impressive as it gets. Surrounded by a ring of mountains up to 2,600 meters high. There you will find Oberstdorf, your vacation spot, where village romance and pure nature come together. And where you can make the most of your best days of the year.
Those who embark on the over 200 km long network of hiking trails around the mountain and sports village of Oberstdorf in the Allgäu region (815 m) leave everyday life behind. In the morning, you can already hear cowbells ringing, fog rises over the Oberstdorf meadows, and the scent of damp grass, spruce and pine fills the air. The peaks of the surrounding mountains are still hiding behind the clouds, which dissolve at the latest after the first warming rays of sun. Together with the neighboring Kleinwalsertal, Oberstdorf is the largest hiking and mountain sports area on the northern edge of the Alps. From spring to autumn, you can expect a network of around 200 km of hiking and cycling trails with scenic paths and many tour variations. The clear signposting system provides guests with detailed information about the route, distance, duration and difficulty level.
With around 400 peaks in close proximity, multi-day trekking, climbing and mountaineering tours are tempting. There is also the possibility for paragliding. But not only at alpine heights, especially in valley and mid-level locations, hiking in Oberstdorf is particularly attractive. Leisurely walks on forest and meadow paths in the districts of Rubi, Reichenbach, Schöllang, Tiefenbach or Kornau - always accompanied by an incomparable view of the mountains - are enticing. But also hikes at half height, past crystal-clear mountain streams or on paths and trails, past rustic mountain huts, into the wild and romantic side valleys of Stillachtal, Trettachtal, Oytal or Rohrmoostal are equally popular.
Summer guests appreciate all of this. Sports fans, families and nature lovers feel at home in the picturesque mountain world and enjoy the diversity of Germany's southernmost municipality in peace.
---
---
Tips til fritiden Oberstdorf im Allgäu
---
Kontakt Oberstdorf im Allgäu

Tourismus Oberstdorf
Prinzregenten-Platz 1, D-87571 Oberstdorf
Telefon

Fax

Hjemmeside
E-Mail
Forespørgsel und Bestilling af brochure Indkvartering

Indkvartering Oberstdorf im Allgäu
58 Hoteller, Ferielejligheder...
80 Tilbud og Alt inklusive

Sportsleverandør Oberstdorf im Allgäu
Tilbud og Alt inklusive Oberstdorf im Allgäu
Webcams
De mest populære regioner