Skiområde

Schöneben - Haideralm / Reschenpass

1.450 - 2.350m
Aktuelle Informationen
I går, 15:47
Lifte
Åbningstider

Vinter
Sæson

- 15.04.2023

Betrieb

08:30 - 16:30
Pister
let

30 km (6)

middel

29 km (4)

vanskelig

6 km (4)

Freeride/ Ruter

5 km

i alt

60 km
Fornyelser
EXTENSION / RENEWAL OF THE SELF SERVICE RESTAURANT:
Extension in modern wood structure
an additional 200 seats
modern exterior design, great sun terrace
many regional delicacies
COVID-19 precautions
All important information can be found under this link:
www.schoeneben.it/de/service-infos/st...
---
Skiområde
At Resia/Reschen, near the tri-border area where South Tyrol, North Tyrol and the Engadine meet, you'll find the sun-drenched ski resort of Schöneben-Haideralm, one of South Tyrol's most popular family ski areas. Belpiano means "beautiful plain" in Italian, and the ski area really lives up to its name. With seven lifts, snow coverage well into spring, and nice broad runs, Belpiano offers a wide array of options to families, snowboarders, ski tourers and leisure skiers. And at nearby Resia Lake with his Romanesque church tower there are great opportunities for ice skating, kiting and ice sailing.
With the two country skiarena, skiers of all ages have the opportunity to enjoy the ski areas in North and South Tyrol, from Nauders on the Resia Pass to Solda/Sulden in the Venosta Valley, with no limit. This ticket is valid in six ski areas, providing access to 211 kilometres of slopes. Visitors may choose between a multi-day pass and a season ticket. Other offers include the flexi ski passes, special week prices and family ski passes for unlimited use in the following six ski areas: Schöneben-Malga S. Valentino/Haider Alm, Watles, Solda allOrtles/Sulden am Ortler, Trafoi all'Ortles/Trafoi am Ortler and Nauders in Austria.
The two country skiarena will be available for purchase in all six ski areas.
---
Kontakt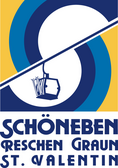 Schöneben AG
Altdorf, I-39027 Reschen
Telefon

Snetelefon

Homepage
Forespørge
Åbningstider

 Sommer
Sæson

26.05.2023 - 08.10.2023
von 9:00 uhr bis 16:30 durchgehend!
Find bolig
Schöneben - Haideralm /...
91 Hoteller, Ferieboliger...
42 Tilbud og Alt inklusive
Sportsleverandør
Schöneben - Haideralm /...
Webcams
Mest populære skisportssteder