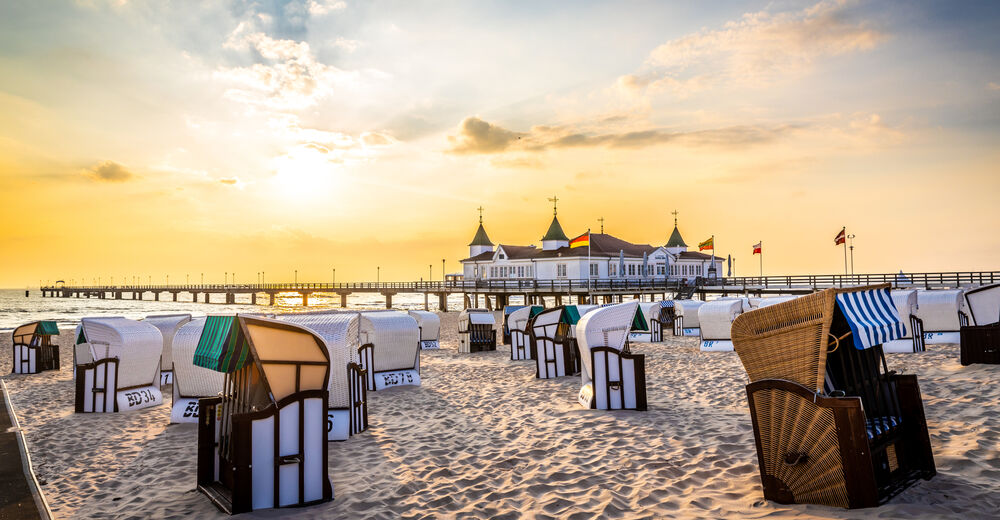 Endless white sandy beaches, maritime flair, unspoilt countryside and the unique seaside resort architecture make Usedom an destination. Germany's second largest island is particularly location in the north-east of the country, Usedom is particularly sunny.spoiled. With an average of 2,000 hours of sunshine, it regularly it regularly achieves peak values.
The town of Wolgast lies directly in front of the island of Usedom. Wolgast is one of the oldest towns in Pomerania. Here you can admire historical buildings, visit the Wolgast Zoo or indulge yourself in one of the numerous cafés & restaurants.
You can reach the north of the island of Usedom via the Peene Bridge in Wolgast. In the Baltic resorts of Karlshagen, Trassenheide and Zinnowitz you can enjoy the peace and quiet of unspoilt nature, visit numerous museums and exhibitions or discover the traditional spa architecture in the Baltic resort of Zinnowitz.
In the middle of Usedom, the seaside resorts of Zempin, Koserow, Loddin and Ückeritz are strung together like pearls - or rather "ambers" - on a string. These four places form the Usedom Amber Spas, so called because the gold of the sea - amber - is at home here. Especially after stormy days, the coveted "stones" can be found on the Baltic Sea beach.
The imperial resorts of Ahlbeck - Heringsdorf - Bansin are also famous for their unique and completely preserved spa architecture. With their piers and historic villas, they transport every guest back to the early days of seaside culture on the Baltic Sea.
Away from the promenades and promenades, the island shows its original side. In the so-called "Achterland", winding paths lead to fishing villages, through forests, moors and meadows.
---
Tips til fritiden Usedom
---
Kontakt Usedom
Usedom Tourismus GmbH
Hauptstraße 42, D-17459 Ostseebad Koserow
Telefon

Hjemmeside
E-Mail
Webcams
De mest populære regioner