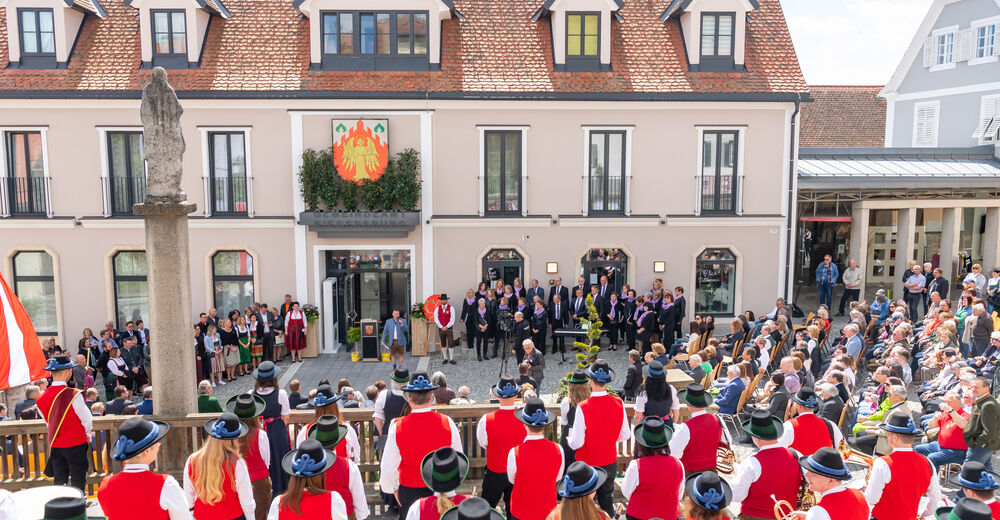 / * * Riegersburg is a market town with just 5,000 inhabitants below the castle of the same name in the southeast of Styria in the district Südoststeiermark. Since 1 January 2015 it has joined forces as part of the Styrian municipality structural reform with the communities Breitenfeld, Lödersdorf and Kornberg. /
Myths, adventures and gruesome stories of bygone times have grown up around the impressive landmark of Southeastern Styria. In all the centuries of its existence, the Riegersburg was never conquered and therefore was rightly regarded as the strongest fortress of the western world.
Today, the rise is up to the castle much easier, but always an experience. Kilometre-long defensive walls with numerous loopholes line the historic footpath through seven gates up winds along eleven bastions. As forces saving alternative also offers a modern inclined elevator available. In the High Castle fortress now three different exhibitions are located: "Witch Museum", "Legendary Riegersburg" and "weapons on the Riegersburg"!
The seaside town of Riegersburg with 15,000 square meters of water and a large, relaxing lawn, beach volleyball court, adventure pool with games Bach, pit-pat facility, a 36-meter Wasserursche and the See-Restaurant is in the summer months, the meeting place for all water lovers, recreation seekers and sports enthusiasts.
Just above the resort you will find the spacious fishpond and four tennis courts with clubhouse.
In the seaside resort can also 20 e-bikes at € 5, - for half a day and € 10, - will be reserved or picked up for the whole day.
Enjoy hiking Riegersburg *
The southeastern Styrian hills is also ideal for long walks on foot or by bike on marked trails, the mighty and highly visible Riegersburg surround and.
Starting from Riegersburger center runs the trail in two routes * *, an eastern and a western loop. One can the whole country around the Riegersburg explore on foot. A treat trail, as it has never been seen before him - with many surprises, nature trails and locations for young and old.
The noble * manufactories of culinary volcano country * invite you to tastings and experiences to guided tours and demonstrations.
Source: www.riegersburg.com or gde@riegersburg.gv.at
---
Tips til fritiden Riegersburg
---
Kontakt Riegersburg
Tourismusverband Riegersburg
Riegersburg 87, A-8333 Riegersburg
Telefon

Fax

Hjemmeside
E-Mail
Forespørgsel und Bestilling af brochure Indkvartering