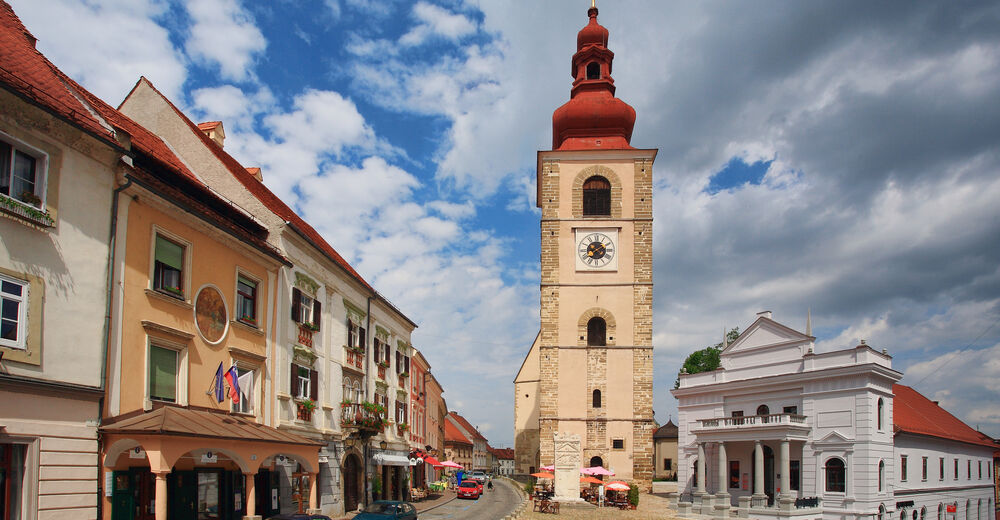 It is much easier to describe *Ptuj*'s location between Slovenske gorice and Haloze and between Dravsko polje and Ptujsko polje than to write a short history of the city.
Its history is rich and the city has numerous monuments to prove it. Its history reaches back to the Stone Age, but the city experienced its greatest flowering in the Roman period. The name originates in the times of Emperor Trajan, who granted the settlement city status and named it Colonia Ulpia Traiana Poetovio. In 69 A.D., Emperor Vespasian was elected in Ptuj, and the first written mention of the city of Ptuj is from the same year. Roman Poetovio developed into an important military, commercial, customs, and administrative center. Forty thousand people lived in the Ptuj area in this period, a number never since reached. It was later burned by the Huns and occupied by the Avars and the Slavs. In the period of the Slav prince Pribina, it was incorporated into the Frankish state. Later, it became the property of the Salzburg archdiocese and experienced the Hungarian attacks. The city recovered and when city rights were granted, it was able to build a wall around the city. The first city statutes from 1376 provided the legal regulation of the city and contributed to its economic power. Sadly, this declined under the pressure of Turkish attacks and major fires, floods, and epidemics.
Today, this important economic center of the lower Podravje region is a city of fairs, a city of excursions into unspoiled nature, a city with a rich culinary offer, and a city of wine cellars and thermal springs.
Quelle: www.slovenia.info/en/-ctg-kraji/Ptuj-.htm?_ctg_kraji=2907&lng=2&redirected=1
---
Tips til fritiden Ptuj
---
Kontakt Ptuj
TIC Ptuj
Slovenski trg 5, SI-2250 Ptuj
Telefon

Hjemmeside
E-Mail
Webcams
De mest populære regioner