Loipen I dag, 16:25
Langlauf-Schnuppertag am Samstag, 16.12.2023: In Zusammenarbeit mit dem ASC Sarntal/Langlauf, dem Skiverleih Penserhof – Alpine Hotel & Restaurant und dem Tourismusverein Sarntal wird am Eröffnungstag der Loipe ein Langlauf-Schnuppertag angeboten, welcher folgende Attraktionen beinhaltet: Gratis-Verleih Langlaufausrüstung im Penserhof – Alpine Hotel & Restaurant Gratis-Langlaufkurse ASC Sarntal Langlauf – Treff Parkplatz Asten von 11.30 – 14.00 Uhr. Gratis-Langlauf Tageskarte
Nuværende drift: kun i weekenden
Cross-country skiing in the Sarntal is a hit!
The white pleasure trail along the Pens Valley leads past rustic mountain farms and cosy inns. The "Pensertal" cross-country ski trail in the rear Sarntal valley has long since ceased to be an insider's tip!.
The varied white trail, which runs past rustic farms and is groomed daily for both types of skiing, has won the hearts of cross-country skiers from near and far in no time.
All trails are groomed daily so that nothing can stand in the way of pure cross-country skiing fun. The facts and figures speak for themselves: hardly any other sport is better suited for a comprehensive endurance training than cross-country skiing.
90 percent of all muscles are activated, the immune system is stimulated, the oxygen supply in the blood is improved and the sense of balance, coordination and mobility are increased. Cross-country skiing is not only effective, but also gentle and easy on the joints. And also the soul benefits from the harmonious movement in fresh air and sun. The Sarntal valley offers unique and varied opportunities to practise this sport - discover this wonderful winter world in your own way, enjoy the sunny days on perfectly groomed slopes.
Cross-country ski trail Pensertal!
With perfectly groomed cross-country trails for experts and beginners, the Pensertal invites you to a cross-country skiing experience in a class of its own. Enjoy a cross-country skiing excursion and get some fresh air while exercising.
*Cross-country Card
Our commitment to the optimal preparation of the cross-country ski runs means unadulterated cross-country skiing fun for you. Get your cross-country skiing card at all cross-country skiing stations or at the Sarntal Tourist Office.
Day ticket: € 7.00
Weekly ticket: 25,00 €
Season ticket adults: 70,00 € (children from 9-14- years: 30,00 €)
Cross-country skiing stations:
Hotel Feldrand - tel. 0471 627101 - info@feldrand.com - Hotel Murrerhof - tel. 0471 627121 - info@murrerhof.com - Penserhof - Alpine Hotel & Restaurant tel. 0471 627122 - alpenhotel@penserhof.com - Provisioning kiosk Astner Winterzauber - tel. 335 1200404
---
Priser
Our commitment to the optimal preparation of the cross-country ski runs means unclouded cross-country skiing fun for you. Our cross-country skiing map:
Day ticket: € 7.00
Weekly ticket: 25,00 €
Season ticket: 70,00 € (children from 9-14 years: 30,00 €)
---
Forfriskningsstoppesteder
Gasthof Rabensteinerhof - Tel. 0471 627147
Hotel Feldrand - Tel. 0471 627101
Hotel Murrerhof - Tel. 0471 627121
Penserhof - Alpine Hotel & Restaurant Tel. 0471 627122
Versorgerkiosk Astner Winterzauber - Tel. 335 1200404
---
Aktuelle oplysninger om langrendsløjper
Hjemmeside

E-Mail

Telefon

+39/0471-623091
Loipen Oversigt
3
klassiske stier
19 km
Langlaufloipe Pensertal mit den Rundkursen Murrerhof, Pens-Asten (Höhenloipe) und Flutlichtloipe Asten. (Flutlichtloipe im Winter 23-24 geschlossen!) Pista di sci di fondo Pensertal con i circuiti Murrerhof, Pens-Asten (pista d'alta quota) e pista illuminata Asten. (pista illuminata in inverno 23-24 chiuso!) Cross-country ski trail Pensertal with the circuits Murrerhof, Pens-Asten (high-altitude trail) and floodlit trail Asten. (Floodlit trail closed in winter 23-24!)
3
Skøjtebaner
19 km
Langlaufloipe Pensertal mit den Rundkursen Murrerhof, Pens-Asten (Höhenloipe) und Flutlichtloipe Asten.(Flutlichtloipe im Winter 23-24 geschlossen!) Pista di sci di fondo Pensertal con i circuiti Murrerhof, Pens-Asten (pista d'alta quota) e pista illuminata Asten. (pista illuminata in inverno 23-24 chiuso!) Cross-country ski trail Pensertal with the circuits Murrerhof, Pens-Asten (high-altitude trail) and floodlit trail Asten. (Floodlit trail closed in winter 23-24!)
1
Højtliggende stier
9 km
Pens-Asten (Höhenlage/altitudine 1458 bis 1523 m)
1
Oplyste stier
2 km
Pens-Asten: Jeden Dienstag und Donnerstag von 18.00 - 21.00 Uhr, geöffnet ab Anfang Dezember. Im Winter 2022/2023 bleibt die Flutlichtloipe geschlossen!) Pens-Asten: ogni martedì e giovedì dalle 18.00 alle 21.00, aperto dall'inizio di dicembre. Nell'inverno 2022/2023 il percorso illuminato sarà chiuso)! Pens-Asten: Every Tuesday and Thursday from 18.00 - 21.00, open from the beginning of December. In winter 2022/2023 the floodlit trail will be closed!)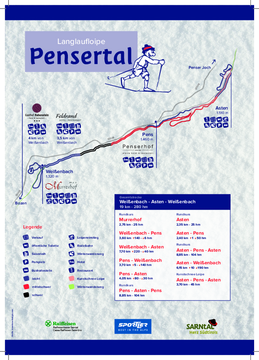 Diverses
Udlejning
Hotel Feldrand - Tel. 0471 627101 - info@feldrand.com - Hotel Murrerhof - Tel. 0471 627121 - info@murrerhof.com - Penserhof - Alpine Hotel & Restaurant Tel. 0471 627122 - alpenhotel@penserhof.com
Langrendsski Service

Kontakt Turistkontor
Tourismusverein Sarntal
Adresse

Kirchplatz 9, I-39058 39058 Sarnthein

Telefon

+39 0471 623091

E-Mail

Homepage
De mest populære langrendsområder