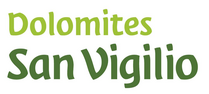 Langrend på ski
San Vigilio - Dolomites / Kronplatz
1.200 - 1.550m
Cross-country skiing is becoming increasingly popular, and many guests have discovered this fascinating Nordic discipline in San Vigilio di Marebbe, on the stunning ski run down into the Marebbe valley. From one end of the village, this 24 km track winds through the quiet forests and snow-covered mountain pastures of the Fanes-Senes-Braies Nature Park, where the fresh air seems to glisten and the soothing tranquillity of the winter season dominates the Dolomites. On many different routes (rings), cross-country skiing enthusiasts will find ideal skiing conditions as well as breathtaking surroundings and inviting refuges offering mouth-watering delicacies. Group lessons and individual lessons are available at the San Vigilio ski schools.
The slope
At the very heart of San Vigilio di Marebbe, close to the Aqua Bad Cortina Oasis Hotel, a beautiful cross-country slope sets off past the romantic Val de Mareo all the way to the Pederü mountain inn. Just take a glimpse at the picture-book winter landscapes, and you won't be able to stop yourself from grabbing your skis and setting off into the white fields and forests, to relax far from the daily hustle and bustle. The slope is suitable for both cross-country skiing and skating. For all winter sports enthusiasts who wish to learn or improve their cross-country skiing, there are two ski schools in San Vigilio which offer both group lessons and individual lessons (for ski schools please go to page 17). Of course you don't have to ski the whole 24 km of the slope: the track is arranged in a number of routes (rings) which allow you to return to San Vigilio at any time. You can also catch the Mareo-/Citybus service (to Pederü and the football grounds) and start skiing at different points of the slope.
Please contact the Tourist Board for information on snow conditions and the state of the slope: +39 0474 501 037.
The Cross-Country skiing slope S.Vigilio - Pederü is part of Dolomiti NordicSki
DOLOMITI NORDICSKI: FACTS AND FIGURES
> the slopes are open from December
> all slopes are groomed with compact snow (min. 5 km)
> ideal grooming for classic and freestyle cross-country skiing
> free for children aged 14 or under; group discounts:
every 21st ticket is free
> The slopes may only be used with a valid ticket. Slope inspectors
are entitled to remove all invalid passes (e.g. on ski poles).
> There will be no compensation or refunds in the event of service
interruptions of any kind. No responsibility can be assumed for the
facilities to run at all times.
> All details are subject to change. Dolomiti NordicSki reserves the
right to make changes where necessary.
---
Forfriskningsstoppesteder
---
Videos
---
Aktuelle oplysninger om langrendsløjper
Hjemmeside

E-Mail

Telefon

+39 0474 501037
Diverses
Udlejning
Langrendsski Service
Kontakt Turistkontor
Tourismusgenossenschaft San Vigilio/San Martin
Adresse

Catarina Lanz Str. 14, I-39030 St. Vigil in Enneberg

Telefon

+39 0474 501037

Fax

+39 0474 501566

E-Mail

Homepage
De mest populære langrendsområder