Alpenhotel Kindl
6167 Neustift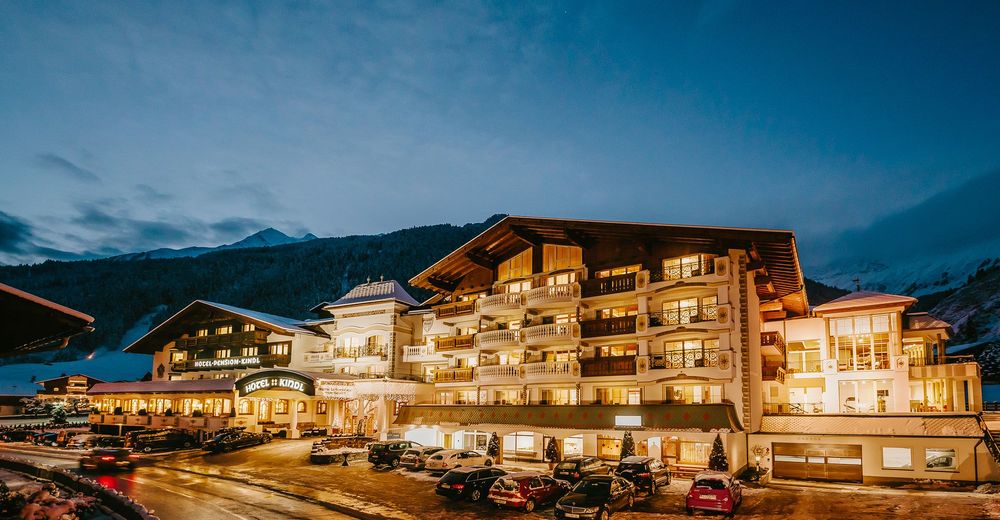 © ANDRE SCHOENHERR - Andre Schönherr
© ANDRE SCHOENHERR - Andre Schönherr
© ANDRE SCHOENHERR - Andre Schönherr
© ANDRE SCHOENHERR - Andre Schönherr
Ski saving days in autumn
med skipas / Ski-inklusivpris / Vinterpris
Gyldighed

24.10.2021 til 23.12.2021
3 Nætter: 24.10.2021 til 28.10.2021
3 Nætter: 07.11.2021 til 11.11.2021
3 Nætter: 14.11.2021 til 18.11.2021
3 Nætter: 21.11.2021 til 25.11.2021
3 Nætter: 28.11.2021 til 02.12.2021
3 Nætter: 05.12.2021 til 09.12.2021
3 Nætter: 12.12.2021 til 16.12.2021
3 Nætter: 19.12.2021 til 23.12.2021

Præstationer

Valid only from Sunday to Thursday

Start your winter season with us! Take advantage of the marvellous fresh snow on the Stubai Glacier before enjoying rejuvenation in our panoramic sauna with whirlpool tub and exclusive relaxation area!

Price per person including:

3 nights in the room of your choice
2,5-day-glacier-skipass

Culinary masterpieces:

Hearty breakfast buffet with organic (BIO) and whole foods
Daily cake buffet with traditional Stubai snacks in the afternoon including soft drinks, tea station and coffee
A five-course dinner menu awaits you, where you can choose between four main courses. Crispy fresh salads from the buffet and cheese board complete the richness on offer

Spa highlights:

Free use of our in-house leisure pool area. This includes an indoor pool with waterfall, floor jets, counter current system, whirlpool tub and children paddling pool. Our sauna paradise with Tyrolean alpine sauna 90 °C, Bio-sauna 70 °C, Turkish steam bath, infrared cabin and saline bath
The "Sky" spa area is only accessible to adults and has a Finnish panoramic sauna with automatic infusion, a sensational panoramic whirlpool tub as well as an exclusive relaxation zone with spa loungers and swing beds as well as a fresh air terrace with sun loungers and an unforgettable view overlooking the Stubai Alps
Guided sauna infusions with our "Saunameister"

Winter Highlights:

Gratis shuttle service to the ski resorts in Stubai valley
Access to cross country skiing lanes and winter hiking trails just next to the hotel
Ski cellar and ski boots dryer

Vacation Fun for the Whole Family in Winter:

Indoor playroom suffused with light (ca. 60 m²)
Table tennis, tabletop soccer, tabletop hockey
Childcare from 3 years
Inclusive services for children

...other Highlights:

Free WIFI connection everywhere in the hotel
Live-music-evenings at the hotel lobby
High quality fitness room with view on to the mountain peak "Elferspitze"
New terrace with garden and play area for children

Anmærkning

Ski - start package

Start into the winter seaon! Enjoy the wonderful fresh-fallen snow at the Stubai glacier and relax your body and soul alfterwards in the Alpenhotel Kindl.

Package price per person, including:

3-nights stay with half board including
2,5 day skipass for the glacier
Every day there is a free transfer to the Stubaier Glacier
Sumptuous buffet breakfast with organic and wholegrain products
Dinner - 4-course meals Plus: Vegetarian menu,

Delicious buffet of seasonal salads available every day

Daily afternoon buffet with coffee and strudel or dessert
healthy - all ingredients are from the own agriculture or from the farmers nearby
Free use of the swimming area with waterfall, ground blast and counter - current system
Free use of the sauna area with Turkish steam sauna, Finnish sauna, Saunarium, salt water bath, light therapie sauna
Free chat station in the hotel lobby and w-lan

NEW:

finnish sauna with panoramic automatic infusion
sensational panoramic Jacuzzi
exclusive spa relax lounge
fresh-air terrace with an unforgettable view of thebeauty of the Stubai Alps
gym with quality equipment
your kids will have a lot of fun in the new light-filled room
treatment rooms for massages

When you book a luxury Zirben room a parking space is reserved for your car.

Book now - our special offer.
---
3 Nætter
24.10.2021 til 28.10.2021
3/4 pension (halvpension+eftermiddagspause)
---
3 Nætter
07.11.2021 til 11.11.2021
3/4 pension (halvpension+eftermiddagspause)
---
3 Nætter
14.11.2021 til 18.11.2021
3/4 pension (halvpension+eftermiddagspause)
---
3 Nætter
21.11.2021 til 25.11.2021
3/4 pension (halvpension+eftermiddagspause)
---
3 Nætter
28.11.2021 til 02.12.2021
---
3 Nætter
05.12.2021 til 09.12.2021
3/4 pension (halvpension+eftermiddagspause)
---
3 Nætter
12.12.2021 til 16.12.2021
3/4 pension (halvpension+eftermiddagspause)
---
3 Nætter
19.12.2021 til 23.12.2021
3/4 pension (halvpension+eftermiddagspause)
Weitere Angebote Alpenhotel Kindl