HOCHoben camp & explore
9822 Mallnitz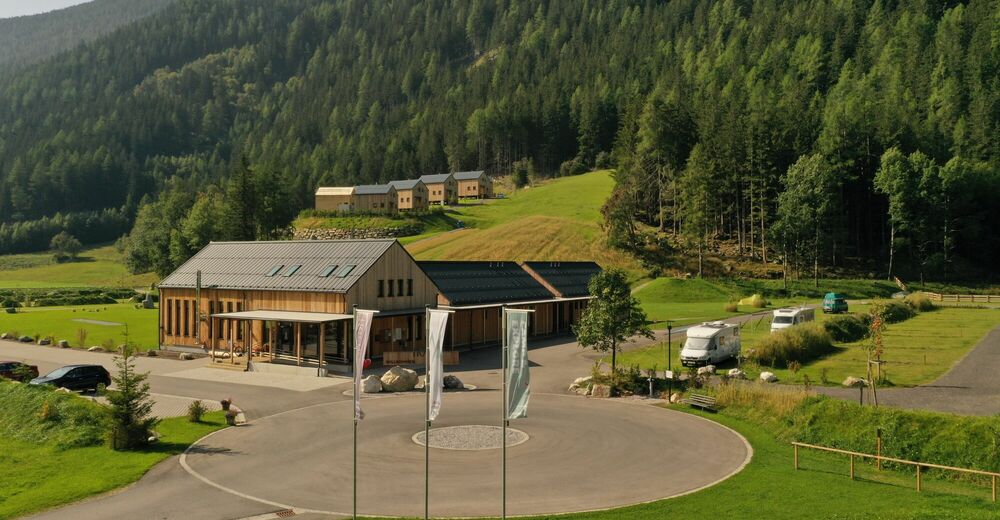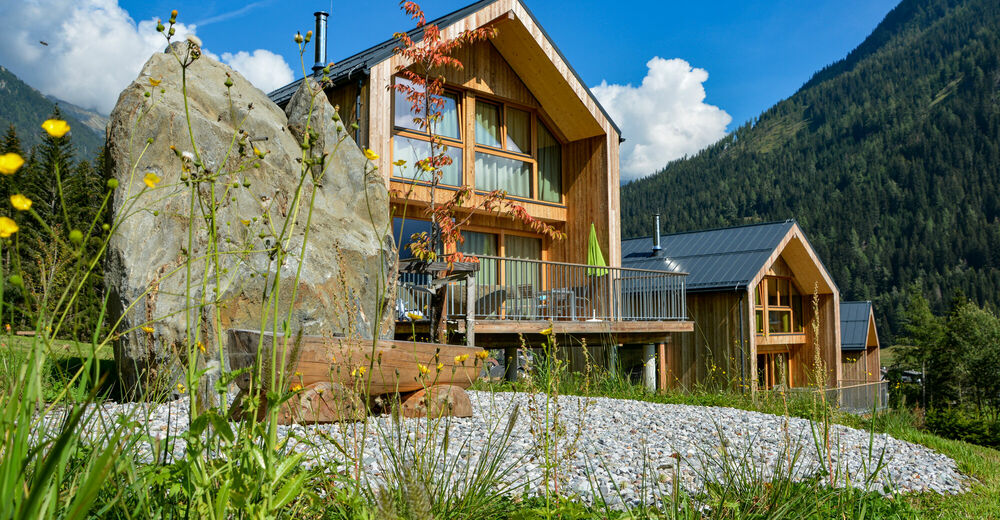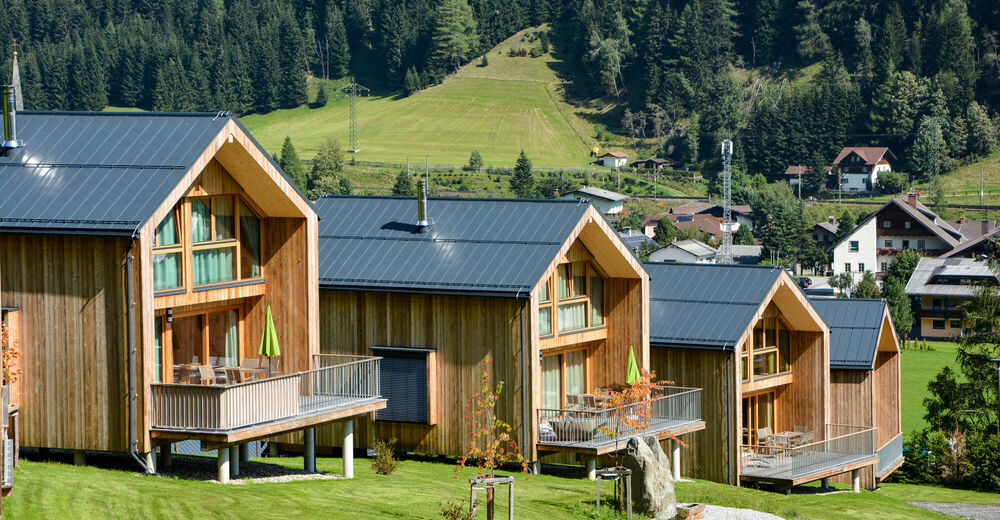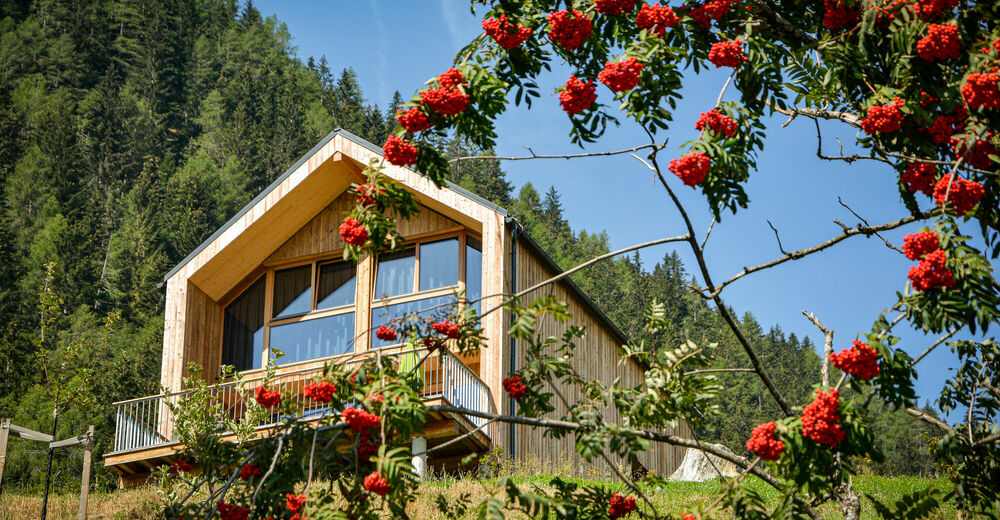 © Patrick Sommeregger-Baurecht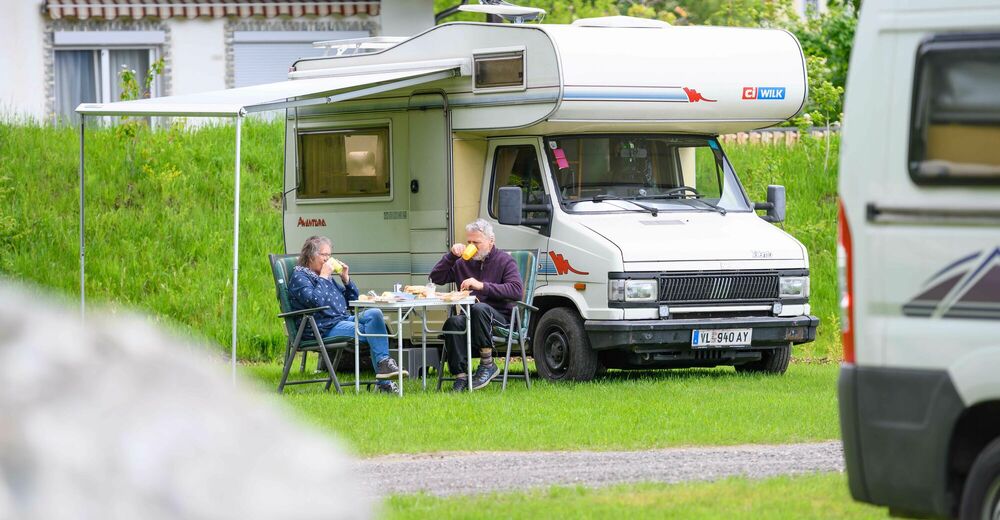 © Patrick Sommeregger-Baurecht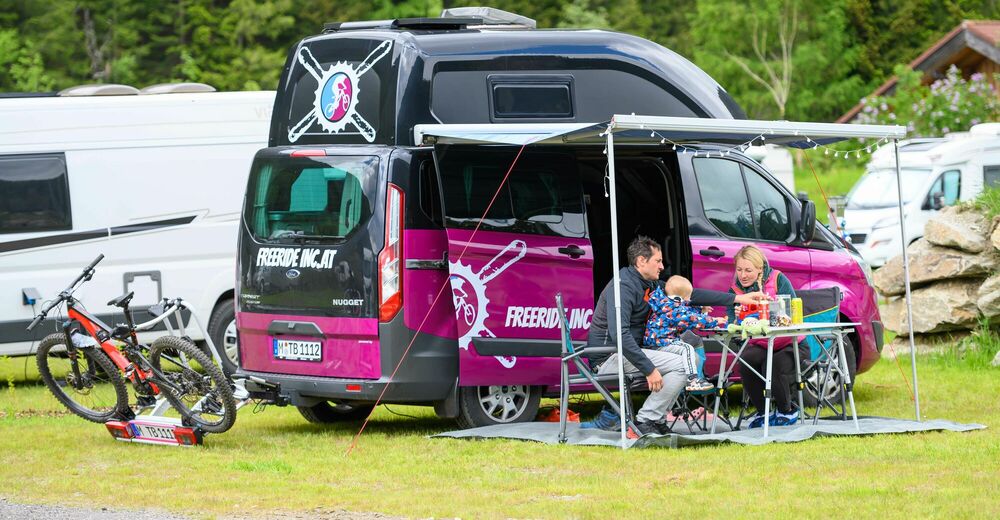 © Patrick Sommeregger-Baurecht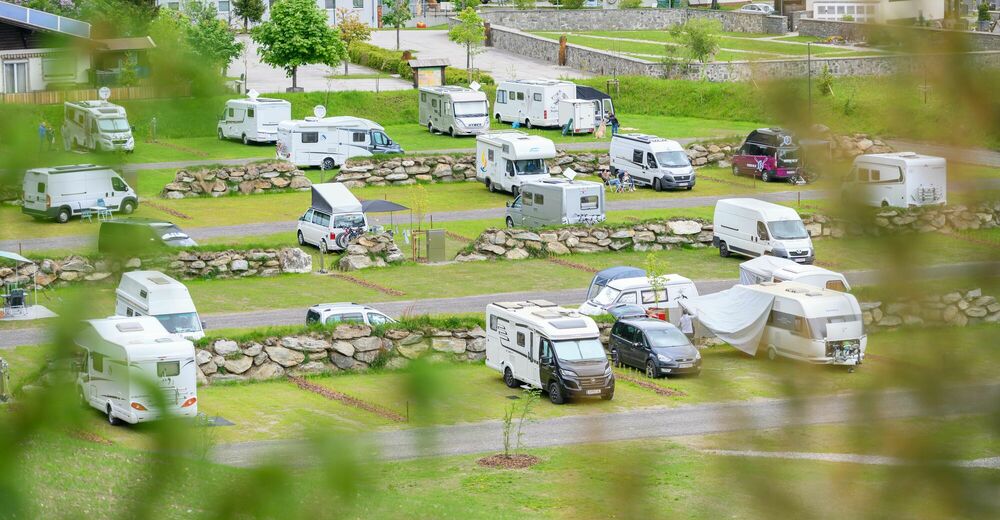 © Patrick Sommeregger-Baurecht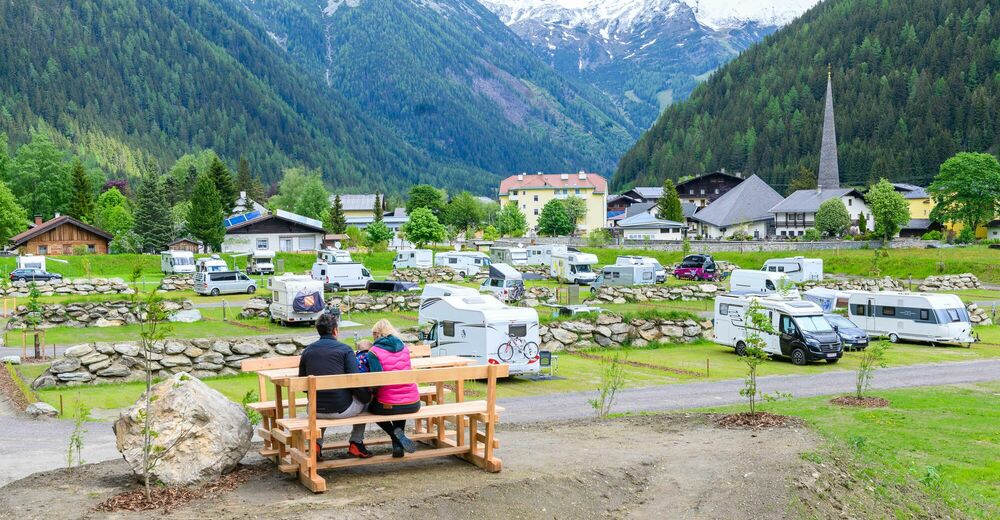 © Patrick Sommeregger-Baurecht
**Come to us. Find yourself.**
We want to enjoy life – in all facets that make it worth living. At HOCHoben you will find your way home again at 1200m above sea level.
Back to nature and back to yourself.
The campsite is divided into a north and south area, with the main building situated in the middle, where you can also find the reception, restaurant and shopping facilities, sanitary facilities and washrooms.
In the second construction phase, we plan to build another sanitary facility for the southern part of the area, but this will happen at a later date. Even when you are surrounded by free alpine nature, you don't have to forgo a high standard. All pitches are supplied with fresh water, electricity, satellite TV, Wi-Fi network and waste water disposal. For a little bit more comfort there is a drying and ski room, washing machines (enjoying nature demands small sacrifices) and a dishwashing area, plus a dog shower must not be omitted of course. For all those who like to call their bathroom their own private domain, there is the possibility of additionally renting one of 4 rental bathrooms.
Pure enjoyment in our chalet village - Unditurbed. Untouched. Yours.
​
In our chalets your will find your very own personal retreat in the middle of the breathtaking landscape of the Hohen Tauern. Here, only you decide what the day holds for you. Make yourself comfortable, on your couch or in your own sauna. Alone or with your loved ones, you will find everything in our Alpine chalets to give you a real break. Our restaurant is not only available to our inhouse guests for enjoyable moments and captivates with international Mediterranean cuisine. We offer our guests a breakfast delivery service directly to the chalet. The breakfast chosen the day before is delivered to the chalet in the morning and can be enjoyed there - every day!
Videos
02:20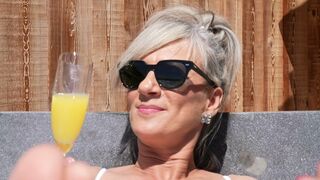 02:40
Allgemeine Verfügbarkeit HOCHoben camp & explore
efter forespørgsel
til rådighed
ikke il rådighed
november 2022
KW
man
tir
ons
tor
fre
lør
søn
1
2
3
4
5
6
7
8
9
10
11
12
13
14
15
16
17
18
19
20
21
22
23
24
25
26
27
28
29
30
Priser
Saison D
29.01.2022 - 06.03.2022
Chalet Auernig (Chalet)
pro Einheit / pro Nacht
| Ohne Verpflegung
1 til 2 Personen fra 184,00 €
3 Personen fra 209,00 €
4 Personen fra 234,00 €

+ 60,00 €
pro Objekt / pro Aufenthalt
Ortstaxe
pro Person / pro Nacht
Haustiere
maks. 3 zulässig
+ 10,00 €
pro Antal / pro Nat
Chalet Ankogel (Chalet)
pro Einheit / pro Nacht
| Ohne Verpflegung
1 til 2 Personen fra 208,00 €
3 Personen fra 233,00 €
4 Personen fra 258,00 €
5 Personen fra 283,00 €
6 Personen fra 308,00 €

+ 60,00 €
pro Objekt / pro Aufenthalt
Ortstaxe
pro Person / pro Nacht
Haustiere
maks. 3 zulässig
+ 10,00 €
pro Antal / pro Nat
Chalet Ankogel without stone bathtube (Chalet)
pro Einheit / pro Nacht
| Ohne Verpflegung
1 til 2 Personen fra 208,00 €
3 Personen fra 233,00 €
4 Personen fra 258,00 €
5 Personen fra 283,00 €
6 Personen fra 308,00 €

+ 60,00 €
pro Objekt / pro Aufenthalt
Ortstaxe
pro Person / pro Nacht
Haustiere
maks. 3 zulässig
+ 10,00 €
pro Antal / pro Nat
Mobilhome (Mobile Home)
pro Einheit / pro Nacht
| Ohne Verpflegung
1 til 2 Personen fra 144,00 €
3 Personen fra 164,00 €
4 Personen fra 184,00 €

+ 50,00 €
pro Objekt / pro Aufenthalt
Ortstaxe
pro Person / pro Nacht
Haustiere
maks. 3 zulässig
+ 10,00 €
pro Antal / pro Nat
Pitch Enzian (Parking space)
pro Einheit / pro Nacht
1 til 2 Personen fra 36,00 €
3 Personen fra 46,00 €
4 Personen fra 56,00 €
5 Personen fra 66,00 €
6 Personen fra 76,00 €

Ortstaxe
pro Person / pro Nacht
Haustiere
maks. 5 zulässig
+ 4,00 €
pro Antal / pro Nat
pitch Almrausch (Parking space)
pro Einheit / pro Nacht
1 til 2 Personen fra 41,60 €
3 Personen fra 51,60 €
4 Personen fra 61,60 €
5 Personen fra 71,60 €
6 Personen fra 81,60 €

Ortstaxe
pro Person / pro Nacht
Haustiere
maks. 5 zulässig
+ 4,00 €
pro Antal / pro Nat
pitch edelweiß (Parking space)
pro Einheit / pro Nacht
1 til 2 Personen fra 47,20 €
3 Personen fra 57,20 €
4 Personen fra 67,20 €
5 Personen fra 77,20 €
6 Personen fra 87,20 €

Ortstaxe
pro Person / pro Nacht
Haustiere
maks. 5 zulässig
+ 4,00 €
pro Antal / pro Nat
Saison E
07.03.2022 - 18.04.2022
Chalet Auernig (Chalet)
pro Einheit / pro Nacht
| Ohne Verpflegung
1 til 2 Personen fra 160,00 €
3 Personen fra 185,00 €
4 Personen fra 210,00 €

+ 60,00 €
pro Objekt / pro Aufenthalt
Ortstaxe
pro Person / pro Nacht
Haustiere
maks. 3 zulässig
+ 10,00 €
pro Antal / pro Nat
Chalet Ankogel (Chalet)
pro Einheit / pro Nacht
| Ohne Verpflegung
1 til 2 Personen fra 184,00 €
3 Personen fra 209,00 €
4 Personen fra 234,00 €
5 Personen fra 259,00 €
6 Personen fra 284,00 €

+ 60,00 €
pro Objekt / pro Aufenthalt
Ortstaxe
pro Person / pro Nacht
Haustiere
maks. 3 zulässig
+ 10,00 €
pro Antal / pro Nat
Chalet Ankogel without stone bathtube (Chalet)
pro Einheit / pro Nacht
| Ohne Verpflegung
1 til 2 Personen fra 184,00 €
3 Personen fra 209,00 €
4 Personen fra 234,00 €
5 Personen fra 259,00 €
6 Personen fra 284,00 €

+ 60,00 €
pro Objekt / pro Aufenthalt
Ortstaxe
pro Person / pro Nacht
Haustiere
maks. 3 zulässig
+ 10,00 €
pro Antal / pro Nat
Mobilhome (Mobile Home)
pro Einheit / pro Nacht
| Ohne Verpflegung
1 til 2 Personen fra 120,00 €
3 Personen fra 140,00 €
4 Personen fra 160,00 €

+ 50,00 €
pro Objekt / pro Aufenthalt
Ortstaxe
pro Person / pro Nacht
Haustiere
maks. 3 zulässig
+ 10,00 €
pro Antal / pro Nat
Pitch Enzian (Parking space)
pro Einheit / pro Nacht
1 til 2 Personen fra 40,00 €
3 Personen fra 50,00 €
4 Personen fra 60,00 €
5 Personen fra 70,00 €
6 Personen fra 80,00 €

Ortstaxe
pro Person / pro Nacht
Haustiere
maks. 5 zulässig
+ 4,00 €
pro Antal / pro Nat
pitch Almrausch (Parking space)
pro Einheit / pro Nacht
1 til 2 Personen fra 45,60 €
3 Personen fra 55,60 €
4 Personen fra 65,60 €
5 Personen fra 75,60 €
6 Personen fra 85,60 €

Ortstaxe
pro Person / pro Nacht
Haustiere
maks. 5 zulässig
+ 4,00 €
pro Antal / pro Nat
pitch edelweiß (Parking space)
pro Einheit / pro Nacht
1 til 2 Personen fra 51,20 €
3 Personen fra 61,20 €
4 Personen fra 71,20 €
5 Personen fra 81,20 €
6 Personen fra 91,20 €

Ortstaxe
pro Person / pro Nacht
Haustiere
maks. 5 zulässig
+ 4,00 €
pro Antal / pro Nat
Chalet Auernig (Chalet)
pro Nacht
| Ohne Verpflegung
+ 60,00 €
pro Objekt / pro Aufenthalt
Ortstaxe
pro Person / pro Nacht
Haustiere
maks. 3 zulässig
+ 10,00 €
pro Antal / pro Nat
Chalet Ankogel (Chalet)
pro Nacht
| Ohne Verpflegung
+ 60,00 €
pro Objekt / pro Aufenthalt
Ortstaxe
pro Person / pro Nacht
Haustiere
maks. 3 zulässig
+ 10,00 €
pro Antal / pro Nat
Chalet Ankogel without stone bathtube (Chalet)
pro Nacht
| Ohne Verpflegung
+ 60,00 €
pro Objekt / pro Aufenthalt
Ortstaxe
pro Person / pro Nacht
Haustiere
maks. 3 zulässig
+ 10,00 €
pro Antal / pro Nat
Mobilhome (Mobile Home)
pro Nacht
| Ohne Verpflegung
+ 50,00 €
pro Objekt / pro Aufenthalt
Ortstaxe
pro Person / pro Nacht
Haustiere
maks. 3 zulässig
+ 10,00 €
pro Antal / pro Nat
Pitch Enzian (Parking space)
pro Einheit / pro Nacht
1 til 2 Personen fra 36,00 €
3 Personen fra 46,00 €
4 Personen fra 56,00 €
5 Personen fra 66,00 €
6 Personen fra 76,00 €

Ortstaxe
pro Person / pro Nacht
Haustiere
maks. 5 zulässig
+ 4,00 €
pro Antal / pro Nat
pitch Almrausch (Parking space)
pro Einheit / pro Nacht
1 til 2 Personen fra 41,60 €
3 Personen fra 51,60 €
4 Personen fra 61,60 €
5 Personen fra 71,60 €
6 Personen fra 81,60 €

Ortstaxe
pro Person / pro Nacht
Haustiere
maks. 5 zulässig
+ 4,00 €
pro Antal / pro Nat
pitch edelweiß (Parking space)
pro Einheit / pro Nacht
1 til 2 Personen fra 47,20 €
3 Personen fra 57,20 €
4 Personen fra 67,20 €
5 Personen fra 77,20 €
6 Personen fra 87,20 €

Ortstaxe
pro Person / pro Nacht
Haustiere
maks. 5 zulässig
+ 4,00 €
pro Antal / pro Nat
Værelse/Lejligheder