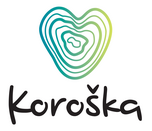 Najevska lipa Lime Tree
The thickest tree and mother to all the lime trees in Slovenia grows in the Koroška region.
The Najevska Lipa lime tree is actually not a lime tree, but a small-leaved lime (Tilia cordata). It grows next to the Najevnik homestead in Ludranski Vrh above Črna na Koroškem.
Legend has it that Turks once, fleeing from the locals, buried their treasure here and to remember the location, they planted 12 lime trees. In truth the experts assume it grew together from seven trunks, but we do not have more accurate information on its origin or the age, since the tree is hollow on the inside. The magnificent Najevska Lipa lime tree is also the symbol of mightiness growing out of common roots.
In 1969, a forest engineer by the name Sgerm measured its circumference at breast height, which was 11.24 metres. In 1980, a part of the rotting circumference fell off and the size was slightly reduced. When they removed the rotting and moist wood from the inside in 1993, it measured 10.56 metres and, in 2006, 10.70 metres.
The ancient lime tree is 24 metres high, and the experts estimate its age to be about 700 years. A part of the southern circumference is missing, and the north side is covered in moss and lichen. In the vicinity stands an old marking, with the year 1227 written down.
After Slovenia gained its independence, the Najevska Lipa lime tree hosted the first meeting of the Slovenian statesmen, which then became a traditional event.
Kontaktinformationer
Videreførende informationer:
www.crna.si
Forespørgsler til:
tic@crna.si