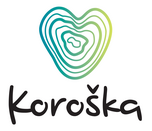 Topla- regional park
Take a walk in one of the most picturesque mountain valleys – the Topla Valley.
It is located under Mount Peca near Črna na Koroškem. Homesteads with many facilities were organised into hamlets called celki, and the life in the valley was also influenced by mining. The meadows and pastures at the bottom of the valley are home to about 30 species of day butterflies. In headwater regions and swamps, endangered species of Carex and protected Orchidaceae can be spotted. The hiking trail will enchant you with lush vegetation of ranunculus, primula, gentiana, the Kamnik orchid and other exceptional species. The forests of Peca with numerous clearings are inhabited by the wild rooster. Due to their natural beauty, cultural regions and preserved ethnological heritage, the valley and the Peca surfaces have been protected as a natural sight and a regional park since 1966.
Kontaktinformationer
Videreførende informationer:
www.koroska.si